This is new for me: I've got a "
Liebster Award

" from one of my blogger friend.
She's
Juriko Kosaka
from Japan. You can see her simple yet amazing blog
here
. We even did an "artwork-barter" last year and I'm so happy I want to do some more! Haha. Check her artwork for me
here
and mine for her
here
.
I feel so honored to get this award for I rarely post anything because of my business! Duh! So thank you again Juri! As you mentioned in your post about this award, now I'm passing this award to 5 of my favorite illustration-bloggers that I make her/him my muse. :) Btw, this is a hard decision since I have so many blogger-idols but I have to choose only FIVE!
1
Constanze Von Kitzing
http://constanzevonkitzing.blogspot.com
She's an incredibly talented artist from Germany. Actually she's a pro and has done a lot of international illustration works. What I love is, she does a lot of children illustrations but the whimsical side is always emphasized. I really overjoyed seeing them.
2
Heidi Alamanda
http://heidilovespainting.blogspot.com/
An Indonesian born blogger but now she lives in US. She's really a PRO! I adore anyone who use oil-paint for their artworks because I myself couldn't use one and also never try it. Paint is really hard to handle and I love the way Mbak Heidi apply it to her artworks.
3
Iki Chipp
http://chippjourney.blogspot.com/
He's also Indonesian, and actually a "neighbor" from my campus back when I was in college. :D I idolize how he use his digital skill and consistent with that. He's got the style and that's really something. The fact that he uses photoshop is a big hit for me as a fan of photoshop, too.
4
Pandu Aditya
http://panduaditya.blogspot.com/
Also an Indonesian, and a digital-based artist. I think he uses vector in his artworks and it's so amazing. His idea of artworks are always fresh and fun to see. Simple but a hit.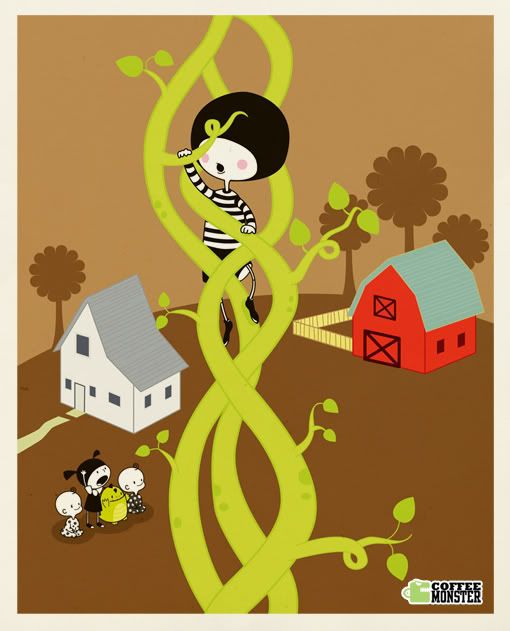 5
Tamami Watanabe
http://tamamiwatanabe-drawingpage.blogspot.com/
She's from Japan, too. Her blog contains mostly sketches and barely left any words. But that is the best part. Besides, her artworks are so fun to see. And picture speaks thousand words you know.
Here are the rules:
"The Liebster Award" is given to blogs that have less than 200 follower and deserve to get to see by more people.
("Liebster" is German. it may mean "favorite")
When you got the award, you do following things.
1. thank the person who gave you this award and link back her/his blog.
2. introduce 3-5 favorite blogs and comment their blogs to tell that they get award.
Well, like I mentioned earlier, I still got so many illustration-blog to mention. You can just click them at my right-side bar. As a closing, once again, thank you Juriko for this pass-it-on chance!:)