Movie time. The title is "
Dear Frankie
", airing first time in 2004. See the IMDB review
here
.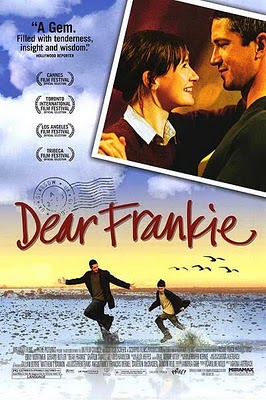 I just saw the film with title "Dear Frankie". I don't know when did the film was made. But one of the cast was familiar to me. I forget her name, but she was also playing in Shutter Island, a latest film with Leonardo DiCaprio in it. So I guess this film isn't too old school, despite its theme song which was so ancient for me.
Anyway, talking about the film, the story told us about a mom and her deaf kid. The kid always sent his father a letter each double-week. What the kid was knew was that his father was a mariner who always make his way through the sea. That's why they never meet each other. But the fact is, it's not his father who replied his letters, but it was his mother did. Things get worse when one day the kid want to meet his father. Then the mom paid someone, who was strangely so kind to them, to admit that he was his father. And then, in the end of the story, the kid knew that his own father had been sick all this time and he died not long after his 'dad' leave again to sail.
This is a great story, to know that the kid didn't react agresively by knowing that he was lied by his own mother all this time-despite it was for everyone's sake. But something that I dissagree is, that lying isn't solve anything. No matter how big is your love, it won't change the fact that
lying isn't a way to loving someone
. Sigh.
This post is originally written at September 18, 2010 by Dewi_Isn.